Daniella Bolaños Misas credits Truman School's research opportunities and diversity with giving her a strong start in her career
Thursday, November 7, 2019 - 11:02 am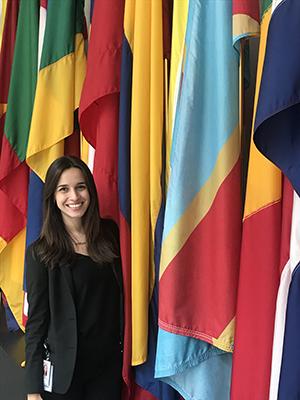 Daniella Bolaños Misas graduated from the Harry S Truman School of Public Affairs with her Master of Public Affairs in 2014.  During her time at the Truman School, Bolaños Misas worked as a Graduate Research Assistant for Associate Professor Irma Arteaga researching Head Start in the state of Missouri, an early childhood education program that provides services to low-income children and families. She also worked with former PhD Program Director Colleen Heflin, traveling to Indiana and New Mexico to help Dr. Heflin research the social impacts of water outages for the Rural Policy Research Institute (RUPRI).
"When I first joined the program, I didn't know that there were that many research opportunities," she said. "I was able to do real-life research and evaluations with them. I think that's what sets [the Truman School] apart, because not only do you learn, but you actually get to apply it. So when I got out of the Truman School, I already had a few years' experience in research and evaluation."
Apart from research experience opportunities, Bolaños Misas credited the Truman School's diversity, citing classmates from Angola, Madagascar, Burkina Faso, Trinidad and Tobago, and more. In fact, students representing over twenty countries have attended the school over the years.
"This in itself is an amazing experience, because you get to learn different perspectives of what is actually working and what isn't" she said. "In my case, I ended up jumping into international organizations, such as the World Bank and IMF, and I already had an idea of the different challenges countries might be facing. Being able to discuss policies with people from around the world was the best experience of everything."
Bolaños Misas currently works at the World Bank in Washington D.C. as a Debt Specialist. Previously, she served as a Financial Inclusion & Gender Consultant for the Inter-American Development Bank (IADB), and as Projects Officer and Data Analyst for the International Monetary Fund.
During her time at the school, she was involved in the Golden Key International Honors Society, the Mizzou Swim Club and the Truman School's Grant Writing Volunteer Network.