Dr. Angela Hull Receives AEFP's Prestigious Outstanding Service Award for 2019
Thursday, March 28, 2019 - 3:44 pm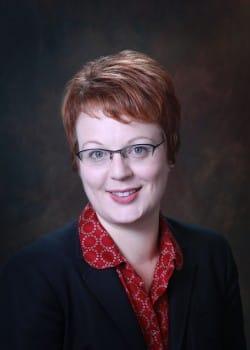 The Association for Education Finance and Policy (AEFP) awarded its prestigious 2019 Outstanding Service Award to Dr. Angela Hull at the AEFP Annual Conference last week.  Dr. Hull is in her fifth year as an assistant teaching professor at the Harry S Truman School of Public Affairs and in her eighth and final year as Executive Director of AEFP.
 This award recognizes Dr. Hull's many accomplishments during her tenure with AEFP.  Highlights include:
A sustained development effort to reduce the $20,000 annual deficit resulting in a $200,000 fund balance;

Doubling the membership in the organization;

Obtaining placement of AEFP's young journal Education Finance and Policy in JSTOR, a digital library for scholars, researchers and student, and securing an impact factor (a measure of the journal's relative importance) for the journal. 
Dr. Hull notes her greatest accomplishment may have been the presence of both teacher unions and teacher union critics at her farewell party, since AEFP's mission is to "promote understanding of means by which resources are generated, distributed and used to enhance human learning; a non-profit professional and academic association representing a variety of disciplines, perspectives and points of view."  Dr. Hull is now part of a long list of distinguished annual service award winners, which includes National Academy members and other leaders in the field of education policy.