Keiser Attends Unveiling of Truman Statue in Washington, D.C.
Tuesday, November 22, 2022 - 10:07 am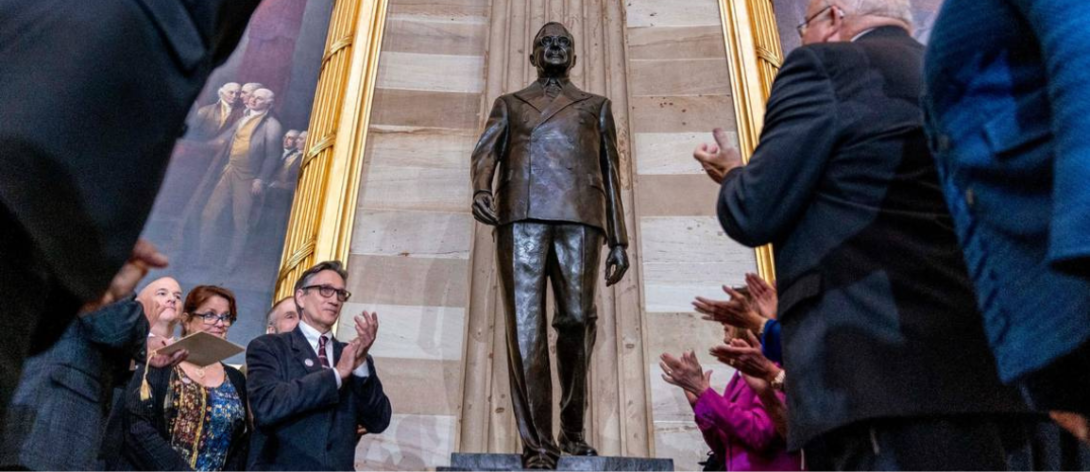 On September 29, Truman School Professor and Director Dr. Lael Keiser had the pleasure of attending the unveiling of the Harry S. Truman statue in the U.S. Capitol Rotunda. Placement of the statue was the culmination of a fundraising effort by the Truman Library Institute in Independence, Missouri. During the ceremony, Truman's oldest grandson Clifton Truman Daniel, U.S. Senator Roy Blunt (R-MO) and U.S. Representative Emanuel Cleaver (D-MO), among others, highlighted several of President Truman's many accomplishments.  
President Truman's is widely regarded by people across the political spectrum as one of our greatest presidents, which is the primary reason the University of Missouri chose to name its school of government and public affairs after him.  Truman's many decisive actions still resonate with today's leaders in politics, international relations, public administration, and public policy.  Just a few examples: Truman signed the executive order that desegregated the military and the federal service, helped end World War II, created the United Nations and NATO, established the Truman Doctrine to lead the world's response to the Soviet aggression and deter communism, recognized Israel, and increased accountability in military contracting.  He also laid the groundwork for greater access to healthcare, which eventually resulted in the passage of Medicare. 
Few Presidents have had so many consequential and long-lasting positive impacts on our nation's governance, and yet, Truman never lost his sense of humility and service. Perhaps his grandson, Clifton Truman Daniel, said it best during the dedication ceremony when he remarked, "He was an honest, hardworking, empathetic, and sensible human being and I leave you today with my family's deep gratitude and a quote that illustrates those qualities in my grandfather, 'Do your duty and history will do you justice.'"   
The PBS Newshour recorded the event, which is posted on their website here.