MU Grad Dru Buntin Named Director of Missouri DNR
Thursday, August 19, 2021 - 2:20 pm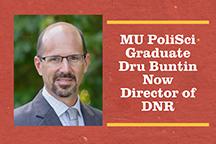 He thanks Mizzou, Political Science, for helping him along the way
Political Science graduate (BA '94) Dru Buntin was named director of the Missouri Department of Natural Resources in August 2021, and the Truman School of Government and Public Affairs (TSGPA) couldn't be more excited.
"Mr. Dru Buntin's career trajectory is a perfect example of how Political Science coursework and the internship program has lasting impacts on students," says Lael Keiser, director of TSGPA. "We are very proud of all that he has accomplished."  
Buntin attended Mizzou from 1990-1994, and said his plan was to continue to law school, but the last semester of his public policy class with Professor David Webber included an internship in the governor's constituent service office that continued to a full-time position.
"I thought, 'well, I'll wait and go back to law school.' I mean how many opportunities are you going to get to work in the governor's office during college? So, I did that for a couple years and eventually was director of constituent service at the governor's office," says Buntin.
Buntin, who grew up in Moberly, says, even so, he still thought he would eventually go back to law school, but instead got an offer to go to the State's Washington, D.C., office. "And so, I did that for a couple years, which led to an opportunity at the Department of Natural Resources in December 2000. So that's when I came to DNR."
History of Impressive Work
Buntin was then director of Government Affairs, and was soon promoted to deputy director for Policy and Chief of Water Resources (2013). That same year he left to be director of the Upper Missouri River Basin Association, then returned to DNR in 2017 as deputy director, giving him more than 15 years with DNR and 20 years in Missouri state government. His expertise, among other endeavors, is leading the department's Red Tape Reduction Initiative as well as drought response and flood recovery support efforts, said the DNR in a release.
"He also worked closely with the late Director Carol Comer to strengthen partnerships with Missouri businesses, citizens, and communities to assist with and promote compliance with Missouri's environmental laws and regulations," the release stated.
Thanks Mizzou
Buntin says his time at Mizzou played a role in his success. "I think of the different professors that I had who had an impact on me," he says. "Dr. Arvarh Strickland was one of my professors. Rick Hardy was another. I think of all the different perspectives that I was exposed to and different opportunities that I was exposed to in a course … and the internship that I completed in my senior year at MU directly led me on the path that resulted in my career at the Department of Natural Resources."
His advice to other students: "I've always just tried to work on things that were of interest to me, that I had a passion about, that I felt like I could contribute to. I would just encourage students to ask themselves what drives them, what motivates them, what's fulfilling to them. It's important you get that fulfillment and sense of accomplishment in your career. And I've been fortunate enough to be able to be involved in [projects] that were of interest to me. And I felt the department's efforts was making a difference in a positive direction."
Handling Stress With Dignity
Buntin said while in Washington, D.C., there were some very high-profile, controversial issues related to the management of the Missouri River as it relates to the upper Mississippi River, and the navigation infrastructure investment being debated in Congress.
"And so, what I tried to do was really dig into those issues, to make sure that I knew as much about those as I could, because I found them of interest and because they're particularly impactful to Missouri – and the majority of our citizens get their water supply from the Missouri River or the floodplain of the Missouri River."
Buntin says he became a "student" of the areas he was responsible, as well as a "continuous learner." Being open to different perspectives was also important in guiding his career.
"It's just really doing the hard work of trying to really learn and understand the areas for which you're responsible for, and trying to anticipate what you need to know and learn in order to be able to master a particular area of your responsibility."
Goals as Director
Buntin hopes to achieve many goals as director, including understanding and modifying how the DNR implements environmental laws in the state and working with those who regulate them. (Note: There were more than 20,000 specific restrictions or requirements regarding environmental laws. As part of the Red Tape Reduction initiative, about 30 percent were removed while still protecting human health and the environment, while assisting with economic development opportunities.) Also, the State Legislature just approved more than $60 million in revenue bonds for infrastructure projects and 22 State parks. In addition, there are drinking water reservoir projects.
"And so really my focus is going to be on delivering those projects. We also have a number of flood-resiliency projects that are underway on the Missouri River, Jeff City, Brunswick and Holt County. Those are going to be important opportunities to look at and see if there are ways we can work with communities to reduce damages in future large-scale flood events."
He said recently Missouri has seen the largest scale flood events on the Missouri and Mississippi that have occurred during the history on record. "We're really wanting to take a look at that; are there things that we can do differently to be able to make it easier to recover and to reduce damages?"
Applause Deserved
Truman School career and alumni services director, Leanne Tippet Mosby, has known Director Buntin for 20 years and worked with him for 12 years at the Missouri DNR.
"Dru has an amazing ability to analyze complex problems quickly and work well with diverse groups of people, which are absolute necessities for the DNR director," she says. "I know he will do a great job for the state of Missouri."
"I'm humbled by the opportunity," says Buntin. "I'm grateful to the governor for the confidence he has placed in me. We've got a great team of professionals at the department. It's an honor and privilege to work with them, and I'm looking forward to the things that we're going to do, to accomplish together.
"I'm also very appreciative for my family and my community of Moberly that I grew up in and the University of MU. I have nothing but positive things to say about all the people who supported me throughout my life and in my career. And I hope to live up the to the faith that they placed in me."