Student Spotlight--Chastity Haxton
Tuesday, February 2, 2021 - 4:00 pm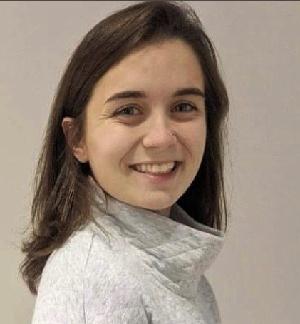 Chastity is a first-year graduate student in the Harry S Truman School of Public Affairs. Before beginning at the Truman school, Chastity served as an Americorps VISTA member for a local nonprofit organization, Rural Action, during the summer of 2020 after earning her bachelor's degree in sociology from Ohio University.
Originally from Medina, Ohio, Chastity moved to Columbia for the start of her graduate program. During her undergraduate degree, she competed on the Women's Division 1 Swimming & Diving team at Ohio University. Through being active in student organizations and volunteer experiences, Chastity developed a passion for environmental responsibility and sustainability. 
During her service with Rural Action, Chastity was involved in various projects that supported community development and sustainability in rural Appalachia. Through her work at Ohio University's student farm, Rural Action's buying club, and the Chesterhill Produce Auction, she gained experience in learning about new ways to combat food insecurity and food deserts in this region. 
After joining the Institute of Public Policy (IPP), Chastity was able to apply the knowledge she learned in the field to effectively facilitate research where she worked to develop an equity lens to apply to IPP's Building Regional Resilience project. She is also part of a team that works on the Youth Community Coalition project and gathers data for the Boone Indicators Dashboard.
Through her volunteer efforts and internship at Rural Action, Chastity developed an interest in program evaluation, which inspired her to apply to the Truman school to further her knowledge of public affairs and prepare her to serve in a leadership role for a socially-conscious nonprofit organization in the future.
During the spring semester, Chastity will continue to work as a Graduate Research Assistant for IPP, and looks forward to collaborating with fellow researchers to cultivate research that will affect positive change in her community.