Thursday, June 9, 2016 - 8:20 am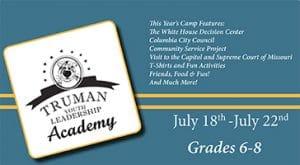 Truman Youth Leadership Academy Coordinator, Harrison McLean, discussed this year's upcoming camp in a radio interview, which aired on June 6, 2016 on KWIX Information Radio. The Truman Youth Leadership Academy is a summer day camp geared towards civic involvement, community engagement and leadership activities for incoming 6th-8th graders. This year's camp runs from July 18th through July 22nd and costs $60. Applications are available at Trumanleadership.org.
The Academy features core components such as the White House Decision Center, which posits an historical Situation Room scenario President Harry Truman and his cabinet had to work through for the campers to solve using the same data, a City of Columbia mock City Council, where the campers get to bring initiatives to the table to vote on, a hands-on city service project, as well as lessons on healthy relationships and difficult dialogues. The Truman Youth Leadership Academy bases its curriculum on Mizzou's core values of Respect, Responsibility, Discovery and Excellence and seeks to foster these in the campers to apply toward future leadership experiences while having fun. To listen to the interview segments, please click on the link below.
http://www.centralmoinfo.com/2016/06/06/mu-truman-leadership-academy-summer-day-camp/